Spotlight: Heather Ryan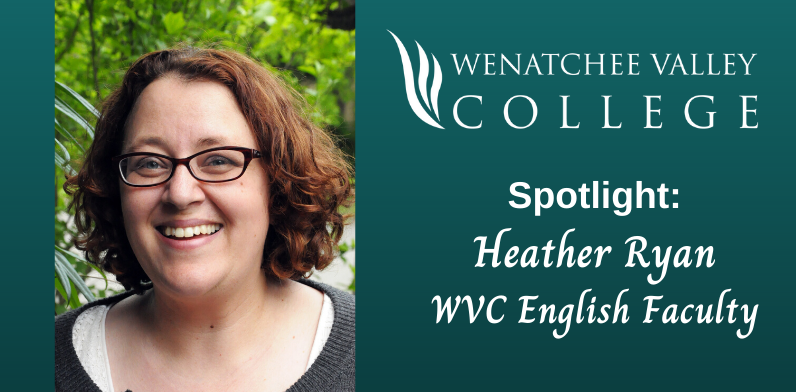 Heather Ryan, Wenatchee Valley College English faculty and faculty professional development coordinator, said she focuses on big-picture questions on how to improve WVC for everyone.
"What are other faculty doing in other places? Why do some students not perform as well as others, and how can we be the people who address that? Are there things I can bring to campus to help other people?" She said. "I'm not necessarily the person with the answer, but maybe I can be the person who can go find the answer and bring back something of value."
Heather has taught at WVC since 2014. In the classroom, she said she focuses on her students' strengths and not their shortcomings.
"Teaching composition and writing is the coolest thing ever," she said. "I see people come in to class feeling really insecure about their writing or they have a lot of past experiences that tell them they are not good writers, so I consider it my job to help them realize they can become successful… If you can help people get over their fears in writing, you can set them up to do anything."
As the recently elected president of the Association of Higher Education faculty union at WVC, Heather said the key to success in that role is good listening.
"My job is to listen and be present for faculty, to help them understand aspects of the contract, and to represent faculty in many instances with administration," she said. "I feel really humbled to have been asked and honored to serve the faculty. I think unions are absolutely a vital part of the fabric of our communities and workplaces and I'm glad I get to give back to the institution that has provided so much for me and for my family."
Faculty at WVC bring more than a curriculum to their students, Heather said. They help them navigate the complex world of higher education.
"People think of education as a very straight path, because it is pursued that way – you take x, y and z classes and get this thing called a diploma. But that doesn't encapsulate the breadth of our knowledge," she said. "The things we offer on our campus really speak to that breadth and knowledge and love. Most of the faculty that I know really truly care about their students, and that makes all the difference."
Students at WVC come from all walks of life, and Heather said her experience in her own life helps her relate to her students.
"I was a single parent of three kids," Heather said, "and because of that I feel like I can relate to students who are a little bit older, or students who don't have a lot of money, or those with kids. I often tell students, 'I made it, you can make it too.'"