Spotlight: Danny Zavala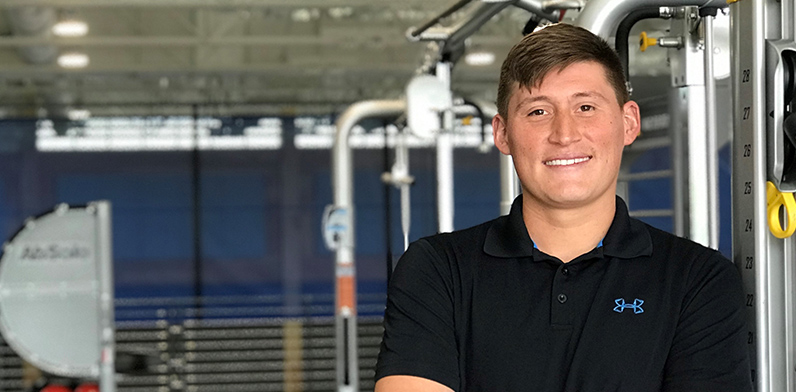 "The Rec Center offers a great opportunity for faculty and staff to connect with students outside of the classroom while working toward the same fitness goals side by side. This brings the culture and community together. Whether you are playing a pick-up game of basketball or doing yoga together, there is interaction there that is stronger, deeper and more meaningful." Danny Zavala, Manager of the Jack & Endna Maguire Student Recreation Center
What is your role here at WVC?
"I oversee the entire rec center, so that includes working with facilities and the custodial crew and launching events through campus life or instruction. I stay busy keeping up with maintenance, doing group exercise classes, scheduling, and working with students, staff and supervisors. I absolutely love it here. The interaction between students and the combination between health and fitness and allowing the students to accomplish their goals is the reason why I love this position. I've been employed here since October 2018."
"I'm very involved with getting students and staff onboard with using different aspects of the facility, whether that's the hi-tech studio room or different pieces of equipment upstairs. It's really been like launching a new business. I've done rebranding, created slogans, and restructured the entire facility so it is more approachable and friendly. Getting the staff on board with our mission of helping individuals accomplish their health and fitness goals is what it is all about."
What is your favorite part about working here?
"My favorite part of working in this role here at the college is the network and interacting with the different departments. The relationships that you can build here within the community is amazing. The connections here are localized, campus based. You can really create those relationships face to face with others here on campus."
Why is higher education important to the Wenatchee Valley?
"Higher education is important to this valley because it establishes the roots of what will drive us as a community to the next level. The more education, the more opportunities, the more opportunities, the more entrepreneurs, which then opens up different job opportunities. Wenatchee is a growing community and higher education is going to drive the community in the right direction. Personally, and coming from a Hispanic background, my mother always told me how important education is and it's definitely opened up a lot of doors for me. Creating those relationships and holding yourself to that higher standard is key. I graduated from CWU with a bachelor's degree in clinical physiology and a minor in Spanish and athletic training."
Is there anything else you would like to share?
"Any student that is attending WVC has already paid the fees to use the rec center. They have access to state of the art equipment, free weights, multipurpose courts with dodge balls, basketballs, pickle balls, badminton equipment, a hi-tech studio with surround sound and more. I want students to know we are here for them and we want to help them accomplish their goals. The rec center offers a great opportunity for faculty and staff to connect with students outside of the classroom while working toward the same fitness goals side by side. This brings the culture and community together! Whether you are playing a pick-up game of basketball or doing yoga together, there is interaction there that is stronger, deeper and more meaningful."